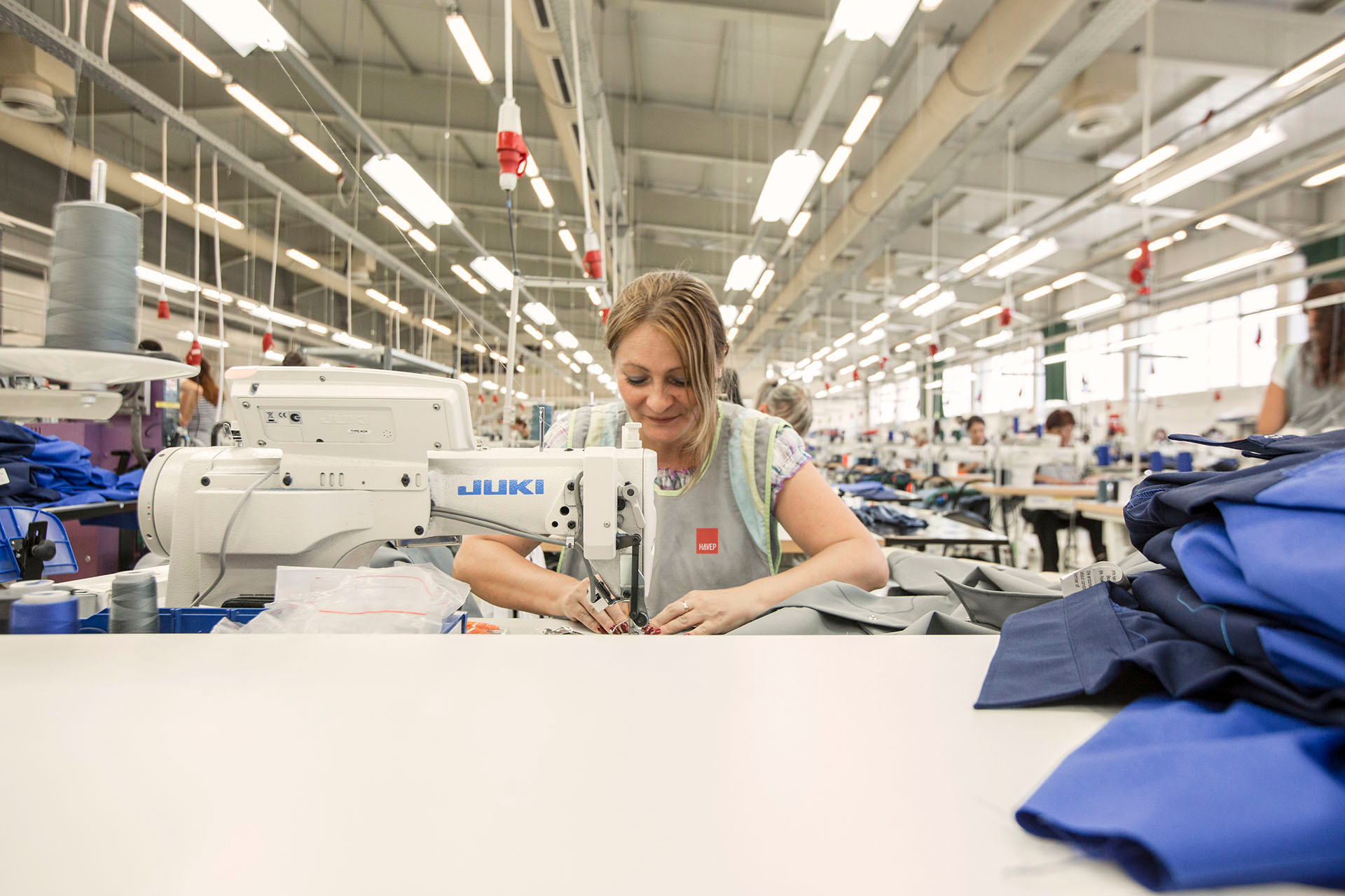 Recycle-friendly fabrics
At HAVEP, we are fully committed to a circular economy. We use sustainable materials wherever possible at every stage of production. And when designing our workwear, we already take into account that the final product should be as recyclable as possible. Our cradle-to-cradle cotton and Infinity True Colours are 2 examples of revolutionary and recycle-friendly fabrics which can be recycled up to 8 times without any loss of quality. 
Infinity True Colors
This fabric is made from 100% polyester and is therefore 100% recyclable. One remarkable characteristic of this fabric is that even after recycling and reprocessing, it retains its colour and quality. In other words, it is possible to make a new red jumper from an old red jumper without the need for additional dyes or colouring agents.
Every item of clothing made from Infinity True Colours comes with a QR code on the inside. When you scan this QR code, you can see from where and how many times it has been recycled. This makes the entire recycling process more transparent and triggers greater involvement by the wearer in that process. And we follow the journey made by your Infinity True Colours fabric together with you. Because we are also curious about the lifecycle of this innovative fabric.
Infinity True Colours fabric is already used in many of our collections. Interested in workwear made from this recycle-friendly fabric? Make an appointment so we can discuss the bespoke options with you. 
Cradle-to-Cradle cotton
Cradle-to-cradle cotton has the same quality, strength and colour-fastness as ordinary cotton but employs natural products during the treatment phase instead of damaging chemicals. A total of 26 different products are used in the manufacturing of cradle-to-cradle cotton, which are all tested by the Environmental Protection Encouragement Agency (EPEA) and all meet the strict requirements in order to be labelled cradle to cradle.
The products used in the processing, dyeing and finishing of cradle-to-cradle cotton are in other words not harmful to either humans or the environment. That makes cradle-to-cradle cotton even easier to recycle, because unlike ordinary cotton, there are no harmful materials that first need to be removed. But above all, it's nicer to wear work clothing which you know does not contain any harmful chemicals.
Interested in workwear made from environmentally-friendly cradle-to-cradle cotton? Go for the HAVEP REWORK® collection or choose our bespoke service and design your own workwear together with our experts using this recycle-friendly alternative to cotton.