Highly standardised safety clothing that has both the fit and the looks
We all know how important clothing can be in making a professional impression. Of course you want to look good. Even when you're at work. But when it comes to work clothing, for many professions and branches the highest priority is safety. Logical, because you and your employer can't take any risk. Too many times the important things like appearance and comfort are pushed to the background while these two elements do have an enormous impact on your work day.
That's why HAVEP launches a completely new collection of highly standardised safety clothing that has both the fit and the looks: HAVEP® Multi Shield. This new concept has been developed by a team of designers who, besides guaranteeing the most important standards, have also given lots of attention to the quality and fit of the clothing. The entire collection is industrial washable while able to maintain the standards. This makes HAVEP® Multi Shield a breakthrough in the market of standardised personal protection equipment.
Safety
The HAVEP® Multi Shield collection has no less than 7 certified standards for ultimate safety on the work floor. The garments are also inherently flame retardant thanks to the addition of Modacryl. Nothing can happen to you.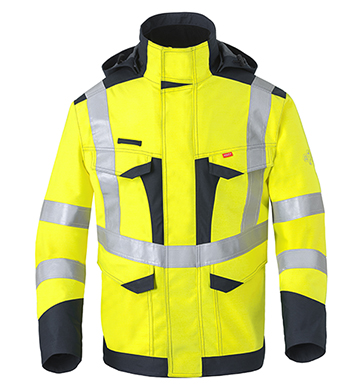 Comfort
HAVEP® Multi Shield scores extremely well in wearing comfort thanks to the unique quality composition and unique fit. Garments in fluorescent yellow are a lot lighter in weight and adding Lyocell gives the clothing a soft and supple feel. The hero status goes to the parka, which has besides its eight standards also the highest EN 343 category or the highest level of breathability than can be achieved. This way you can focus on what's important to you: your work.
Sustainability
In the field of safety, comfort and appearance is HAVEP® Multi Shield the undisputed winner. But the new safety clothing also scores high in sustainability. The used Lyocell fabric saves more water compared to cotton. Choose one of the HAVEP products with the Green Choice label for an even more sustainable choice.