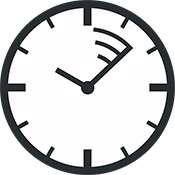 Smart fitting in just a few minutes
Fitting sessions can be a time-consuming affair! Both for you and your customers. Taking all those sample outfits with you on location and then manually recording the corresponding sizes… All in all, a lot of time and energy better spent on other things! Which is why HAVEP has developed an innovative solution: HAVEP Easy Sizing, the digital measurement service that makes the entire process a lot quicker and easier.
One main advantage of this digital measuring service is that you don't have to drag samples around anymore or worry about getting them dirty in transit. By using our efficient Easy Sizing service, you'll also be giving your professional image a boost while saving both time and money.

What is digital fitting?
Revolutionary new software now makes it possible to take someone's measurements digitally. Two scans is all it takes to create a digital 3D model of someone's body in less than a minute. This scale 3D model is based on over 100 individual measurements. Which means you can be sure it's accurate!
The software then translates the measurements into the right size. Whenever you use HAVEP Easy Sizing, we make sure that all the sizing tables are up to date in the online platform for your chosen HAVEP collections. As soon as you add an item of clothing to the database, you can then use the specific measurements for all your projects.
Easy scanning via the app
Our mobile app turns your iPad into a digital fitting station, using the built-in camera to carry out the necessary scans. You can also use it to look up size data easily and see which items of clothing match your measurements. The data from the fitting station is then automatically sent to the management portal.
Manage your data easily and securely online
The management portal makes it easy to manage your data before, during and after each fitting session. All you have to do is log in to your account to access your personal dashboard and check the status of all your projects at a glance. This dashboard, in other words, makes it easy both to take measurements and work together!
The benefits of HAVEP Easy Sizing
Our efficient digital measuring service saves you a huge amount of time, while helping to boost your professional image. But that's not all! HAVEP Easy Sizing also:
Cuts down the time of each individual fitting.
Adapts to the constraints of every location.
Ensures consistent fitting based on 100 measuring points.
Eliminates the need for physical contact and lets your customers keep their clothes on.
Supports an unlimited number of measurements.
Shows the correct size instantly.
Simplifies administration via the online dashboard.
Means no more fitting samples are required.
Saves your data securely in the cloud and links it to the online platform.