Each day we dedicate ourselves at HAVEP to make our work clothing as sustainable as possible. We follow the innovations within the textile sector very closely and keep learning so that we can make the best, sustainable work clothing. But why would you as an entrepreneur choose for sustainable work clothing? What are the concrete advantages? We give you a list with 5 reasons for choosing sustainable work clothing.
1) Good for the environment
By choosing sustainable company clothing, you contribute to a better environment. It's a bit obvious of course, but we still want to reflect on this. The textile sector is very damaging for the environment. For example, for the production of one pair of jeans you need 7,000 litres of water. That is enough water to provide one person with 2 litres of drinking water for 9.5 years. And that while there's a lack of fresh drinking water in many countries.
Shocking numbers that emphasise the need for a change in attitude within the textile industry. At HAVEP we want to be a leader in this. That's why we work as much as possible with fabrics that are made of sustainable raw materials, like biological cotton and Lyocell and with recyclable fabrics. This way we significantly reduce the amounts of water and energy needed to produce our work clothing. In the future we want to implement a lot more sustainable improvements and our collection can be greener, but the first steps are made.
With our new Attitude jeans, we save at least 8.35 kWh and 4,600 litres of water per kilo of fabric that we produce for these jeans. How? By using recycled pre-consumer cuttings. A simple and efficient solution with a huge impact.
By choosing sustainable company clothing you actively contribute to a better world, for man, animal and nature. The road to sustainable and corporate social responsibility is one of trial and error but we do believe that we, if we work together and share our knowledge, that we can change the world one step at the time.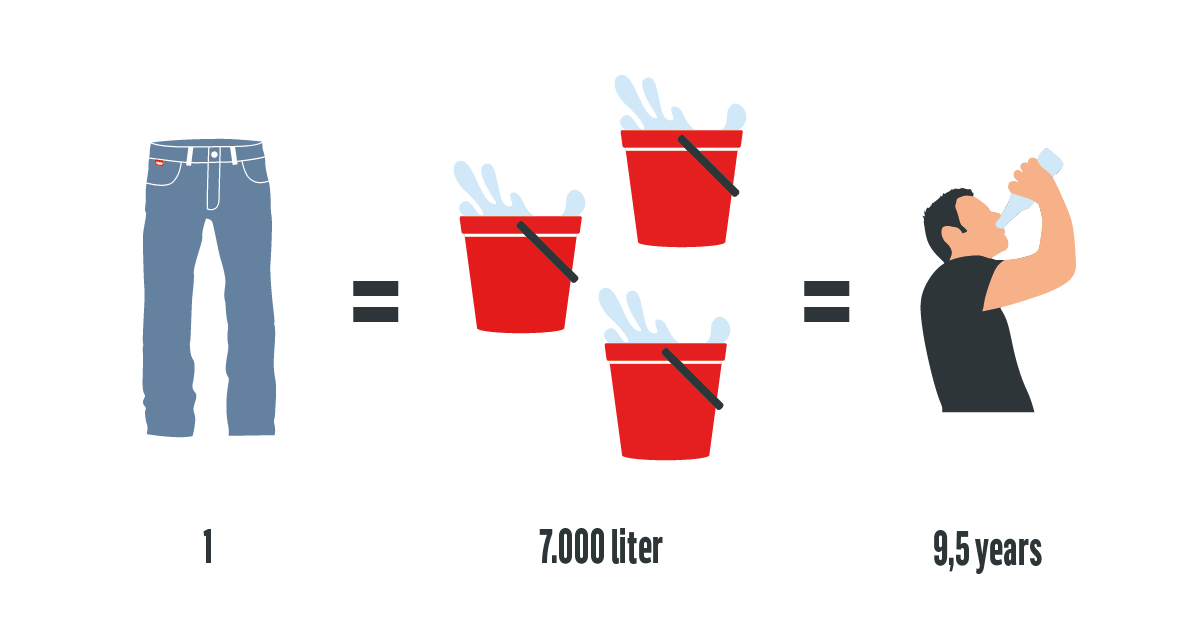 2) Improve labour conditions across the world
We made the choice to manufacture our work clothing in our own workshops, so that we can guarantee good labour conditions. Each day we learn something in this area and try to do better. Help us with our fight against malpractices within the textile industry, like child labour, and choose for sustainable company clothing.
3) Express confidence
Sustainable entrepreneurship and transparency go hand in hand. Sometimes you must dare to take on a vulnerable position as a company and indicate where there is room for improvement; where you need help and where you made the wrong decision. That is scary and we know all about it. At the same time we noticed that this transparent approach ensures more trust from customers, stakeholders and investors which gives your company new chances and possibilities. There are more and more consumers who deliberately choose to buy their products or services from companies with a sustainable policy. Making sustainable choices can appeal to a whole new target group for your business.
4) Boost your reputation with sustainable company clothing
In the choice for services or products is sustainability a more and more determining factor for the consumer. So show what you stand for as a company and choose for sustainable company clothing.
A strong reputation and transparent communication don't just contribute to a strong customer base, but also ensure that staff feels more involved with your company what in turn can be more profitable for your business. Sustainable entrepreneurship is a win-win situation. You contribute to a sustainable future and a better society and create new chances for your business.
5) Sustainable quality
Choosing for sustainable company clothing doesn't mean that you sacrifice comfort, appearance or safety. On the contrary, some of our sustainable materials are more pleasant to wear and are stronger than their less sustainable alternatives.
The base for the fabric Lyocell is for example wood pulp, made from sustainable forestry. This sustainable fabric feels very soft on your skin, is as strong as polyester, has great moisture absorbing qualities and ventilates really well. We used Lyocell for example in the new HAVEP® Multi Shield Collection.
Besides that, we make all of our clothing with our eyes on the future. Our work clothing is of very high quality and lasts a long time. Is something broken? Our Care & Repair service is there for you. This way you enjoy optimum job satisfaction from our sustainable company clothing.
Of course it is possible to recycle our work clothing again after use. With our Collect & Recycle service we love to help you to give your old work clothing a second chance.
Will your staff wear green from now on?
By choosing for sustainable work clothing, you don't just contribute to a better future but also benefit as a company from various advantages. Do you want to make the step towards sustainable work clothing? Then do view our work clothing offer, our sustainable stars can be recognised by their HAVEP® Green Choice label.